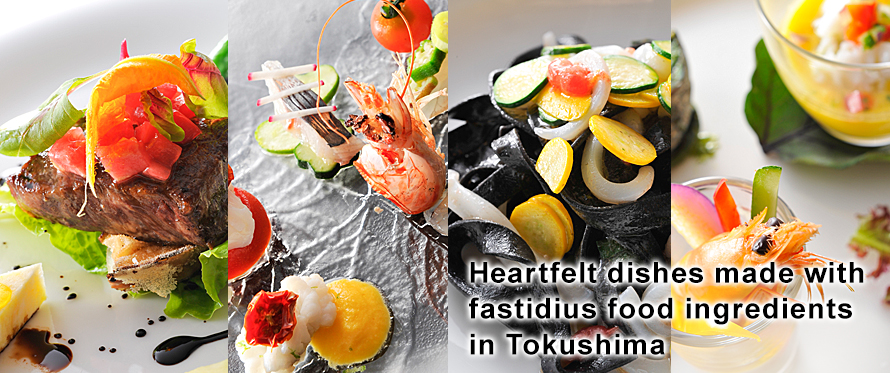 Baked sea bream with salt

We bake a sea bream of Naruto covered with salt and, staff serves in front of you. It's very popular dish in our restaurant. The full course dinner "Sea and Ground" includes this dish.
Pasta

We have 20 or more kinds of pasta which are imported directly from Italy.Sometimes we prepare handmade pasta by the season.
Sauteed abalones

It's the most popular dish in our restaurant. We recommend to eat breads with its source. The full course dinner "Sea and Ground" includes this dish.
Homemade bread "focaccia"

Early in the morning, bread chef makes focaccia.The chef makes focaccia for only one day, so focaccia are often sold out immediately.
All Handmade dessert -dolce-

All of our desserts are handmade. Gateau chocolates, Jelly of oranges and more.We have some kinds of desserts, every day.

Vegetables grew in our field

It is special vegetables to be grown in the back yard of hotel. In the large field, we have 200 more kind of vegetables for 1 year.

Sea breams of Narutos

Sea breams in Naruto strait are the best fish in Japan. We provide Italian dishes using this fishes.
Sweet potatoes made in Naruto "Naruto-Kintoki"

We use the "Satomusume" the most sweet Naruto-Kintoki.Farmers in neighborhood grow it and sometime they give us.You have Naruto-Kintoki potatoes with appetizers and main dishes.

Seaweed in Naruto

There is a lot of nutrition in seaweed in Naruto and their seaweeds are delicious.The combination of the sauteed abalones and the seaweeds are good, and it's the most popular dishes in our restaurant.
For Vegan and Vegetarian

We can provide the meal does not contain meat, seafood, dairy and anything else. There are cases that we use by seafood or dairy a little into bouillon and source. Please let us know in advance what you can not eat avsolutely.